All year tyre featuring excellent properties on dry and wet surfaces and on snow
The tyre properties in winter conditions are comparable credit to optimized tyre tread pattern with winter tyres
The key advantages of the MPS 125 tyre comprise economic efficiency, universal use, long life and high safety while eliminating the need to change tyres during the year
Tread pattern description:
All-season symmetric non-directional tread of an advanced design. This tread was specifically designed for all-seasonal operation of light commercial vehicles on regional roads and highways. The whole development of this tread was focused on high reliability, maximum safety and an excellent durability
Circumferential saw-tooth grooves an ideal channelling of water, mud and snow; high resistance against aquaplaning multiple contact edges provide an excellent traction on snow and ice good directional stability and low noise level. Narrow circumferential grooves in tread lugs they help to distribute the pressure in lugs more evenly they improve cooling of lugs which significantly improves driveability and increases durability of tread they enhance driving safety as well as stability in turns
Transversal voids accurately arranged transversal voids are related each other which provides sufficient resistance against aquaplaning on melted snow and in slops during the whole lifetime transversal voids in tread lugs are tangentially divided and shifted each other in order to minimize noise.
Lamellar tread structure original 3D lamellas improve both traction as well as braking performances on snowy and icy roads at the same time they maintain an excellent stability of driving during maximum loads on dry surfaces a lot of lamellas create many contact edges similarly to winter treads. Reinforced lugs reinforced rigidity of tread lugs enhances tread durability.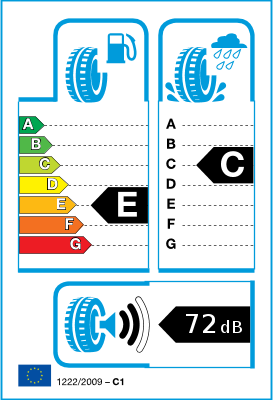 EU Tyre Label and Efficiency Classes
The European Union, under CE 1222/2009, has mandated that all tyres manufactured after the date of July 1 2012 for cars and commercial vehicles include standard EU Tyre Labels classifying them by three performance characteristics:fuel efficiency classified from A to G,wet grip classified from A to G, and noise emission in decibels.
Categories of tyres unaffected by this regulation include: retreaded tyres, professional off-road tyres, racing/sports car tyres, as well as certain types of tyres designed to improve traction such as studded tyres, T-type temporary spare tyres, tyres for cars built before 1990, tyres with a maximum allowed speed of 80km/h, tyres for rims with a diameter less or equal to 254 mm or greater or equal to 635 mm.
This label is intended on one hand to promote economic and ecological efficiency in traffic, as well as increase road safety, and on the other hand to help consumers select appropriate tyres by ensuring a certain degree of product transparency.
Nevertheless, the label has been criticized for only showing a very limited number of characteristics. Professionals argue that tyres have many more features that are important and relevant to road safety, including but not limited to aquaplaning properties, driving stability, service life, product properties on wet and dry roads other than wet grip, properties on snow.
Tyre manufacturers suggest that the test results from various institutions and industry magazines should remain a very important source of information for the end consumer, because they focus on and rate a wide variety of tyre properties and features.