The sporty winter tire for powerful medium and luxury-class cars: As a sports tire for winter use, the ContiWinterContact™ TS 810 Sport combines superb handling with good wet grip and safe driving characteristics on wintry roads.

Stiff shoulder blocks deliver outstanding cornering stability. Its band-shaped tread structure in the center zone, similar to that of summer tires, ensures shortest braking distances on dry roads. Thicker sipes with their sipe spacers on the inside of the tyre keep the sipes open when they pass through the ground contact area. This makes the sipe fill up with more snow and boosts the amount of extra grip on wintry roads.

Highlights:
Outstanding performance in all winter conditions
Superb handling and braking on dry roads
Excellent aquaplaning safety.
Continental SSR Tires

SSR stands for SelfSupportingRunflat Tire

The SSR principle:

Unlike conventional tires, the SSR principle is based on a reinforced self-supporting sidewall. This prevents the inside of the tire from getting pinched between the road and the rim and from slipping into the rim well in the event of a loss of inflation. The SSR's reinforced sidewall enables the car to continue on its way at a maximum speed of 80 km/h (50 mph) for up to 80 km (50 miles), depending on road conditions and vehicle weight.

Communication between tire and driver

Because of the good riding comfort SSR tires afford, drivers hardly notice any pressure loss in the event of a flat, to increase both safety in the event of a flat and performance during normal driving, the SSR system is supplied together with an inflation warning system – either TPMS (Tire Pressure Monitoring System) or DDS (Deflation Detection System), both of which were likewise developed by Continental. These warning systems alert the driver when a drop in inflation pressure requires investigation via a display on the instrument panel.
SSR runflat tires offer crucial advantages
With SSR tires you remain mobile in the event of a flat tire
You can reach your destination or tire service facility without the bother of having to replace a flat tire with the spare tire
Compatible with standard rims
Simple mounting
Saves room and weight, and thus fuel, giving you as much as 3 cubic feet more cargo area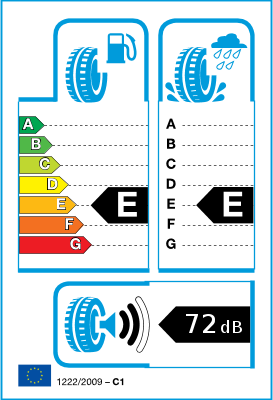 EU Tyre Label and Efficiency Classes
The European Union, under CE 1222/2009, has mandated that all tyres manufactured after the date of July 1 2012 for cars and commercial vehicles include standard EU Tyre Labels classifying them by three performance characteristics:fuel efficiency classified from A to G,wet grip classified from A to G, and noise emission in decibels.
Categories of tyres unaffected by this regulation include: retreaded tyres, professional off-road tyres, racing/sports car tyres, as well as certain types of tyres designed to improve traction such as studded tyres, T-type temporary spare tyres, tyres for cars built before 1990, tyres with a maximum allowed speed of 80km/h, tyres for rims with a diameter less or equal to 254 mm or greater or equal to 635 mm.
This label is intended on one hand to promote economic and ecological efficiency in traffic, as well as increase road safety, and on the other hand to help consumers select appropriate tyres by ensuring a certain degree of product transparency.
Nevertheless, the label has been criticized for only showing a very limited number of characteristics. Professionals argue that tyres have many more features that are important and relevant to road safety, including but not limited to aquaplaning properties, driving stability, service life, product properties on wet and dry roads other than wet grip, properties on snow.
Tyre manufacturers suggest that the test results from various institutions and industry magazines should remain a very important source of information for the end consumer, because they focus on and rate a wide variety of tyre properties and features.