Prices include VAT and delivery within mainland UK (excl. Scottish Highlands).
Uniroyal All-Season Tyres - Bad Weather Does Not Exist
Uniroyal, a brand that is now a part of the Continental group, is undoubtedly one of the tyre manufacturers most valued by users within the range of tyres for rain and adverse weather conditions. The Uniroyal all-season tyres offer an excellent grip on the wet tarmac, which allows you to drive well even on dry and with higher temperatures.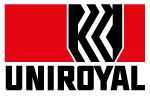 These include the Uniroyal AllSeason Expert, which is available in sizes between 13 and 16 inches. Its direction-bound profile consists of summer and winter side and should offer safe driving behaviour in all weathers. In the middle, there is a deep groove for optimal water drainage in wet conditions.
There is a good reason why the company's slogan is ""Uniroyal - Rain Tyre"". Each of the Uniroyal products is rigidly designed to give maximum performance and safety on wet roads. The manufacturer is proving its leading position in the rubber industry with a large number of independent tests on which its tyres receive the highest grades for wetland behaviour.
Given that in the UK and Ireland the rain falls about 165 days a year, the risk of rainfall is twice as high, which is why Uniroyal all-season tyres would be a perfect solution. Uniroyal tyres provide maximum resistance to aquaplaning and are specially designed to reduce the risk of hydroplaning and provide optimum adhesion on wet roads. Its development team is intensively researching and developing.
If you do not go to places with a particularly harsh climate and live in mild areas, the Uniroyal all-season tyres prices guarantee you safe savings without sacrificing performance and driving experience. With them, you will always have the necessary safety to drive both in winter and in summer, low rolling resistance and lower fuel consumption.
At Tyres-Outlet.co.uk you can buy your new Uniroyal all-season tyres at competitive prices. The delivery in the UK mainland is free of charge for the purchase of two and more tyres, and it takes place within a few business days from the order placed online at our shop, where you can find different models and sizes of the Uniroyal brand.