The versatile 4x4 tyre for off-road enthusiasts
The Wrangler DuraTrac is a hardworking 4x4 tyre for all-wheel traction on difficult terrain.
Tough traction in deep mud and snow
Quiet, stable ride on the road
Enhanced traction for dirt and gravel
Wheel rim protection
Tough grip in deep mud and snow. Take on challenging terrain thanks to TractiveGroove Technology, which delivers enhanced traction on mud and snow. The Wrangler DuraTrac is designated with the Mountain Snowflake symbol for winter use. The tyre is studdable for increased traction in harsh conditions.
Quiet, stable ride. Even rugged 4x4s can offer relaxing journeys with a block design that reduces road noise. Angled centre tread blocks help maintain lateral stability on uneven terrain.
Enhanced traction for dirt and gravel. Brave tough and varied terrain with improved off-road traction. The Wrangler DuraTrac features self-cleaning shoulder blocks that rapidly evacuate gravel, dirt and mud as you move.
Wheel rim protection. Keep your wheels in good condition, thanks to rim protectors that help prevent accidental curb damage.
Description:
Thanks to the TractiveGroove Technology™ the new Wrangler DuraTrac delivers you the performance you are looking for when you need to rely on the all-wheel-drive capabilities of your vehicle. It provides enhanced traction in deep mud and snow, while the combination of highly angled centre tread blocks and zig-zag microgrooves offers improved lateral stability and traction on wet and snowy roads. A special tread rubber enhances the toughness and the longevity of the tyre. Whether you haul a heavy load to a construction site, head off for a weekend of outdoor leisure or just take your 4x4 over a challenging off-road course, Wrangler DuraTrac is the perfect choice for all work and recreational applications.
The versatile 4x4 tire for off-road enthusiasts
Tough traction in deep mud and snow 
Quiet, stable ride on the road
Enhanced traction for dirt and gravel
Wheel rim protection
Feature:
TractiveGroove Technology™
Highly angled centre tread blocks
Self-cleaning shoulder blocks
Mountain Snowflake Symbol Designation
Action:
Increased traction features in all conditions
Maximised biting edges and optimised blocks to enter into the footprint
Mud evacuation
Bladed design and optimised tread compound for Winter performances
Benefits:
Offers enhanced traction in deep mud and snow
Help provide enhanced traction and lateral stability while reducing road noise
Help provide enhanced dirt, gravel and mud traction
Outstanding Winter traction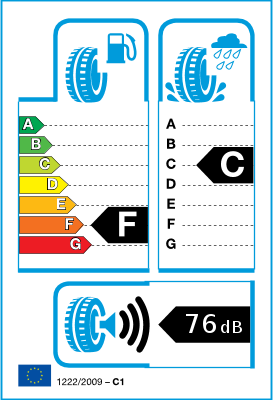 EU Tyre Label and Efficiency Classes
The European Union, under CE 1222/2009, has mandated that all tyres manufactured after the date of July 1 2012 for cars and commercial vehicles include standard EU Tyre Labels classifying them by three performance characteristics:fuel efficiency classified from A to G,wet grip classified from A to G, and noise emission in decibels.
Categories of tyres unaffected by this regulation include: retreaded tyres, professional off-road tyres, racing/sports car tyres, as well as certain types of tyres designed to improve traction such as studded tyres, T-type temporary spare tyres, tyres for cars built before 1990, tyres with a maximum allowed speed of 80km/h, tyres for rims with a diameter less or equal to 254 mm or greater or equal to 635 mm.
This label is intended on one hand to promote economic and ecological efficiency in traffic, as well as increase road safety, and on the other hand to help consumers select appropriate tyres by ensuring a certain degree of product transparency.
Nevertheless, the label has been criticized for only showing a very limited number of characteristics. Professionals argue that tyres have many more features that are important and relevant to road safety, including but not limited to aquaplaning properties, driving stability, service life, product properties on wet and dry roads other than wet grip, properties on snow.
Tyre manufacturers suggest that the test results from various institutions and industry magazines should remain a very important source of information for the end consumer, because they focus on and rate a wide variety of tyre properties and features.