The all-terrain tire from General Tire is called Grabber AT.

It provides a strong grip and excellent handling, both off and on the road. It is also constructed robustly, thus protecting against damage to the tread pattern and sidewalls. The technology used in Grabber AT ensures comfortable handling in combination with high mileage. The compound and the tread pattern were developed with the focus on greater safety off-road and on asphalt. Compared with Grabber AT2, the brake performance on wet roads and noise reduction in particular have been improved. This makes the Grabber AT an excellent tire for use on and off the road.
Offroad feeling in a new dimension.
For SUVs and Pickup Trucks. The all-terrain tyre from General Tire is called Grabber AT. It provides a strong grip and excellent handling, both off and on the road.
Born in the USA, General Tire offers products for all types of vehicles, for all seasons and all terrains
Outstanding traction and excellent steering performance offroad
Fits perfectly for example to Land Rover Discovery, Chevrolet Tahoe and VW Amarok
Outstanding traction
Shifted shoulder and center blocks with nodges 
Optimized circumferential block stiffness
High grip due to free and interlocking block edges
Excellent transmission of high traction and braking forces
Excellent steering performance off road
Aggressive shoulder blocks with high lateral stiffness
Interlocking angled centre blocks with nodges
High lateral force transmission
High grip in muddy terrain
Turning and widening V-shaped grooves
Open shoulders in line with central traction grooves
Self-cleaning effect from centre to shoulder
Better grip on mud and green
Traction ridges at base of every groove
High tread depth
Interlocking in sloppy ground gives additional traction in longitudinal direction
Interlocking of blocks within loose ground
Additional traction pulls you through even on difficult terrain
Long lasting in rough conditions
Solid, stiffness and flexibility balanced blocks 
V-shaped grooves and turning block edges
Robustness against cut and chip due to balanced flexibility and resistance against aggressive forces
Stone retention avoids tyre damages
Robustness of shoulder and sidewall in rough terrain
Aggressive extended off shoulder blocks 
Protection against damages caused by rocks or other objects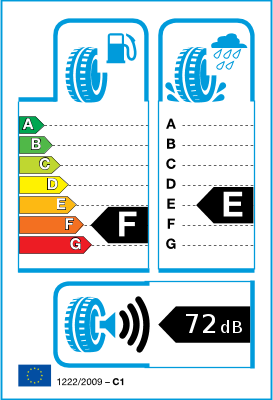 EU Tyre Label and Efficiency Classes
The European Union, under CE 1222/2009, has mandated that all tyres manufactured after the date of July 1 2012 for cars and commercial vehicles include standard EU Tyre Labels classifying them by three performance characteristics:fuel efficiency classified from A to G,wet grip classified from A to G, and noise emission in decibels.
Categories of tyres unaffected by this regulation include: retreaded tyres, professional off-road tyres, racing/sports car tyres, as well as certain types of tyres designed to improve traction such as studded tyres, T-type temporary spare tyres, tyres for cars built before 1990, tyres with a maximum allowed speed of 80km/h, tyres for rims with a diameter less or equal to 254 mm or greater or equal to 635 mm.
This label is intended on one hand to promote economic and ecological efficiency in traffic, as well as increase road safety, and on the other hand to help consumers select appropriate tyres by ensuring a certain degree of product transparency.
Nevertheless, the label has been criticized for only showing a very limited number of characteristics. Professionals argue that tyres have many more features that are important and relevant to road safety, including but not limited to aquaplaning properties, driving stability, service life, product properties on wet and dry roads other than wet grip, properties on snow.
Tyre manufacturers suggest that the test results from various institutions and industry magazines should remain a very important source of information for the end consumer, because they focus on and rate a wide variety of tyre properties and features.